Throughout the fall, I've been traveling between New York (both the City and Cooperstown), Washington, and Kansas City, MO, following the progression of autumn at its most flamboyant. I last left Cooperstown as leaf-peeping season hit its peak, and enjoyed the full blast of reds, oranges and yellows as I settled in for a month of rehearsals and openings at the Kennedy Center. In late October, I dashed out to Kansas City, catching the final blushes of the season in Missouri. Here's what's been happening along the route.
People often ask,
Are there operas you want to direct? Yes! There's a list as long as my arm, and there are even some that I've already directed that I would willingly revisit. One of the operas that I'd never done was Richard Strauss' Elektra. I was fortunate to have directed Ariadne auf Naxos and Salome, but never any of Strauss' larger works, including Elektra. I finally had the opportunity to stage this 100-minute, one-act masterpiece this fall for Washington National Opera at The Kennedy Center, where I programmed it in repertory with another heart-wrenching tale of trauma and betrayal, Verdi's Il trovatore. Both shows have superb casts, and for Elektra, I was thrilled to have Christine Goerke in the title role.
The ultimate dysfunctional royal family.
Like all Greek dramas, Elektra has a crazily complex backstory involving the ultimate dysfunctional royal family. The House of Aetreus began with Tantalus, who was the son of Zeus—so you can imagine, when a family's ancestry is traced to a god, conflict and vengeance inevitably ensue. (The word "tantalize," by the way, is derived from Tantalus—but that's another story.) Without going into all the drama among the subsequent generations (which was often fomented by interference from the gods), we fast-forward to Agamemnon, who offered up his daughter, Iphigenia, as a sacrifice to win a war. In revenge for his actions, his wife, Klytämnestra, and her lover, Aegisth, murdered Agamemnon. Orest (Agamemnon's only son) and his sister, Elektra, in turn swore revenge against their mother and Aegisth for killing their father, and this is the crux of the opera.
Me and Christine.
This Elektra—from both a dramatic as well as real life perspective—brings my 25-years of working with Christine full circle. In 1997, I directed Iphigénie en Tauride, Gluck's take on the House of Aetreus, at Glimmerglass, with Christine in the title role. (If you've been following the convoluted backstory noted above, this means for the Gluck opera, she played Elektra's sister, whose murder is the catalyst for Strauss' opera). Now, as Elektra, Christine's task is to avenge her father's memory by killing Klytämnestra and Aegisth. Christine and I have had some spectacular collaborations, including her singing the new prioress in Dialogues of the Carmelites, the title role in Ariadne auf Naxos, the title role in Alcina, and Brunhilde in The Ring Cycle.
From Messina to Missouri.
One of the great things about my work is the travel. In late October, I went to the Lyric Opera of Kansas City, to oversee rehearsals for WNO's production of La traviata. I had directed this production originally five years ago, and it has been seen at several other companies since, including at Glimmerglass. I was thrilled that the LOKC wanted to do it, which also gave me the opportunity to visit this culturally vibrant city. The company performs in the beautiful Kauffman Center for the Performing Arts, which opened in 2011. It was wonderful to be there with a stellar cast that included Amanda Woodbury, Daniel Montenegro and Weston Hurt.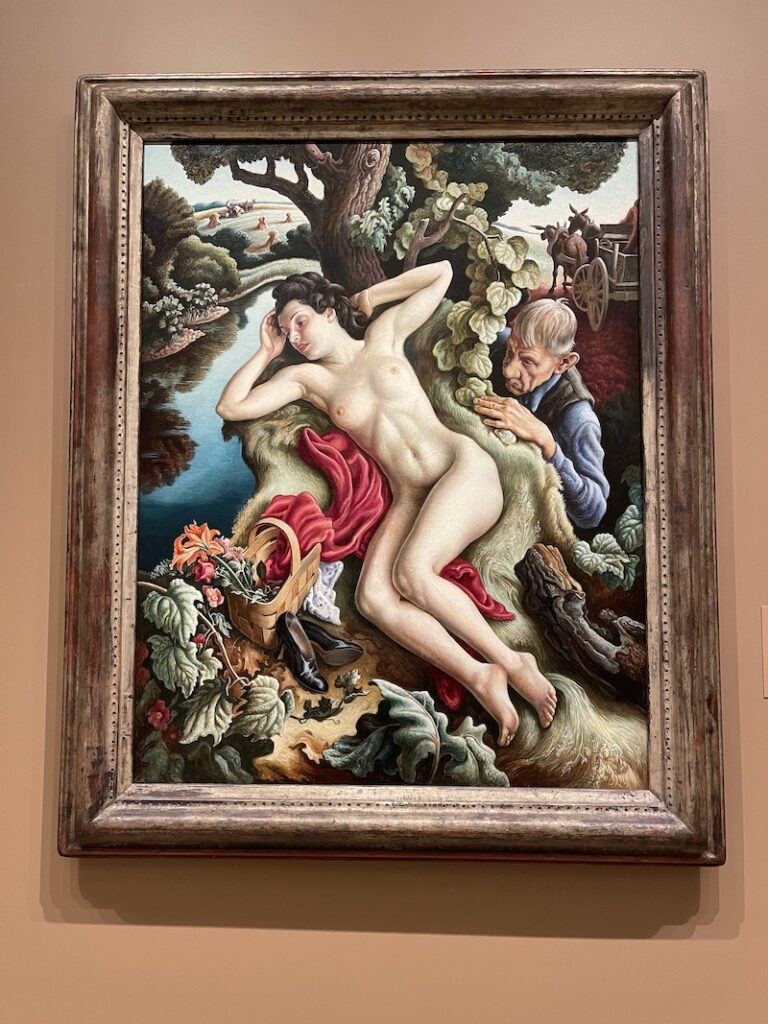 The Hart of the Midwest.
While in Kansas City, I took an afternoon off to tour the Nelson-Atkins Museum of Art, which has, as its logo/icon, a shuttlecock! If you've never been to the Nelson-Atkins, there are four, 18', 55-lb. aluminum/fiberglass/reinforced plastic shuttlecocks by Claes Oldenburg and Coosje van Bruggen installed on the extensive lawn, acquired in 1994 and part of the museum's permanent collection. The museum is also home to 143 works by the renowned Missouri artist, Thomas Hart Benton (1889-1975). Benton, along with Grant Wood and John Steuart Curry, were the triumvirate that defined the American Regionalism art movement. Although all three studied in Paris, they devoted their careers to creating a truly American art form. The painting of Hart's that perhaps caused the most stir is that of Persephone, which I got to see up close (that's my amateur photo of it above), thanks to a wonderful curator who gave me a guided tour. I'm always moved by the works of Hart and his colleagues; as an American who also grew up abroad, including high school in Paris, I feel such connection to this country through these paintings. Another Hart work that I love visiting is his mural Achelous and Hercules at the Smithsonian American Art Museum, which was originally painted in 1947 for a Kansas City Department Store. His murals, in particular, tell such rich stories, there is no wonder they appeal to the stage director in me.
 But what about Il trovatore, The Troubadour?
I knew when we planned the WNO fall season it was important to have Verdi front and center. Both Elektra and Il trovatore are driven by powerful women seeking vengeance for wrongs against their families. In the case of Verdi's Azucena, it is for the brutal murder of her mother who was accused of being a witch. This kind of deep, deep, primal passion about mothers, families and children gives both of these scores such amazing energy. We were blessed in Washington to have had a cast headed by Latonia Moore (Leonora), Raehann Bryce-Davis (Azucena), Gwyn Hughes Jones (Manrico), and Christopher Maltman (Count di Luna). Michele Gamba made his U.S. debut conducting, bringing his great knowledge of the Italian repertory to the mix. My talented colleague, Brenna Corner, who made her WNO debut as director, brought fire and definition to a complex plot that weaves and spins. (As an aside: Why are people still so surprised when they see women leading production teams instead of men. That's the way it should be, right?) Projection designer S. Katy Tucker again did a brilliant job with motion imagery that so powerfully helped clarify this convoluted-yet-poignant plot. The main structure of Erhard Rom's set was shared with Elektra, but looked and felt original and very different in this context. The fabulous costumes and lighting design were by Martin Pakledinaz and AJ Guban. And—as I implied, because this libretto can feel quite confusing—a special shout-out to our dramaturge, Kelley Rourke.
A different Thanksgiving
Inspired by Traviata and Trovatore (and my own Italian roots), my Thanksgiving dinner this year will be all Italian. The holiday has pivoted from the origins' story we grew up with, for many important reasons. But the opportunity to gather with friends and family and express gratitude is reason in itself to pause, come together, and share a delicious meal. Here are three simple Italian vegetable recipes that I will be making to accompany baked fish this year.
Stuffed mushrooms
1 lb. mushroom caps with stems removed
½ cup home-made breadcrumbs
½ cup fresh grated Parmesan
2 cloves minced garlic
Clean the grit off mushrooms. Combine the ingredients together and spoon into caps.
Drizzle olive oil onto the top of each one. Bake at 375 for 20 minutes.
Braised Fennel
Slice a fennel bulb in half
Place in a baking dish and cover with chicken broth and Marsala wine
Braise in 350 oven for 30 minutes
Meanwhile sauté sage leaves in butter and drizzle on fennel after cooking.
Rapini (broccoli rabe)
1 bunch of rabe
Garlic cloves sliced
Red pepper flakes
Lemon wedges
Trim off tough stems (use for soup or something)
Dip into boiling water for two minutes and then put on ice!
Meanwhile heat oil and gently cook the garlic slices and then put in
the rapini in and sauté. Keep crispy, but a little wilted. Sprinkle red pepper flakes on top. Serve with fresh lemon wedges.
To those of you who followed my travels onto this platform, thank you. To all my readers, my wife Faith, son Jackson and I send our warmest wishes for a Happy Thanksgiving. I look forward to sharing more stories, observations and adventures ahead.
Warmly,
'Cesca