Orchestra dress rehearsal of the Washington National Opera's production of Die Walküre, starring Plácido Domingo, Anja Kampe, Alan Held, and Linda Watson.
---
New York Times full-page ad for "Broadway's Sparkling New Musical," Disney's The Little Mermaid on Broadway
Click for a larger version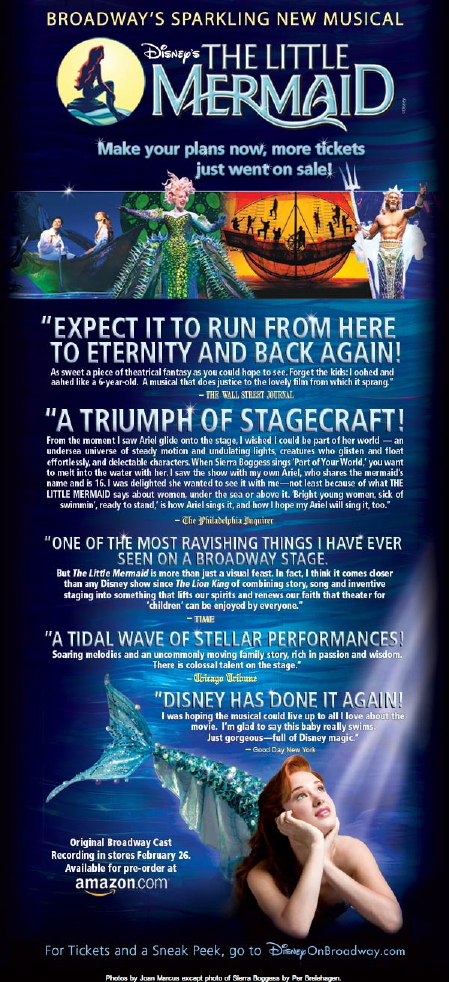 ---
Little House on the Prairie comes to the Guthrie Theater
(Andrew Gans, Playbill, November 2007)
Little House on the Prairie, a new musical based on Laura Ingalls Wilder's popular "Little House on the Prairie" book series, will make its world premiere at the Guthrie's McGuire Proscenium Stage in summer 2008.
Little Mermaid's Francesca Zambello, who helmed an April 2007 workshop of the musical, will direct. The creative team will also include Michelle Lynch (choreography), Kristen Blodgette (music director/supervisor), Adrianne Lobel (sets) and Martin Pakledinaz (costumes).
In a statement Guthrie artistic director Joe Dowling said, "The work of Laura Ingalls Wilder has a deep and powerful connection to the people of the Midwest. This musical fits perfectly within the Guthrie's goal to develop new work that speaks directly to this community. I'm particularly proud to welcome Francesca Zambello and a world-class artistic team to the Guthrie. Francesca's work has been seen on stages around the world and we're thrilled to have her here."
Director Zambello added, "There is no better place to develop this musical than the Guthrie in Minneapolis. I wanted to make a musical from these poignant stories the moment I rediscovered them as an adult. Reading of the exuberance of these characters as they encountered the immense power and force of the Prairie speaks to our history as a country and a people. It did in the 1880's and it does now. Our musical focuses on the independent spirit of the teenager, Laura Ingalls Wilder and her struggles to become an adult; along side the story of the land — as it becomes the American West. The Guthrie allows us to fuse together an integral part of American culture with unique theater writers of today in the heartlands where the Little House began its life."
The new musical features a book by Rachel Sheinkin, music by Rachel Portman and lyrics by Donna DiNovelli.
No Little House casting has been announced, although the April workshop in Manhattan featured Melissa Gilbert, who played Laura in the TV version of the "Prairie" books, as Ma with Patrick Swayze as Pa. The cast also included Sara Chase as Laura, Tony Yazbeck as Almanzo, Sara Ford as Nellie and Olivier Award winner Jenny Galloway as Mrs. Brewster.
Little House on the Prairie is being produced at the Guthrie by special arrangement with Global Prairie Productions, Inc.
The Guthrie is located at 818 South 2nd Street in downtown Minneapolis. For more information visit http://www.guthrietheater.org/prairie.
---
The Little Mermaid takes the stage
(interview by Peter D. Kramer, The Journal News (NY), December 2007)
Francesca Zambello is accustomed to having her feet in several worlds at once. A New Yorker by birth, Zambello has called Paris, Vienna, London and Moscow home. She comes from the world of opera, where she has directed dozens of productions and has been lauded by the French and Russian governments for her contribution to culture.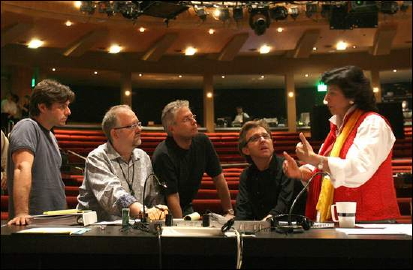 Zambello makes a point with the creative team of The Little Mermaid during rehearsals in Denver. The team includes, from left: Glenn Slater, lyrics; Doug Wright, book; Alan Menken, composer; and Thomas Schumacher, producer.
She's won three Olivier Awards (the British Tony Award) and two French Grand Prix des Critiques for her work at the Paris Opera. Her mantel holds honors from Japan, Germany, Russia and Australia.
And she taught Placido Domingo to sword-fight for the opera "Cyrano de Bergerac."
When she meets a group of reporters, she sits for an interview in English and five minutes later, she's giving one in Italian.
Who better, then, to bridge the several worlds presented in Disney's "The Little Mermaid" – a production that marks Zambello's Broadway debut Jan. 10 at the Lunt-Fontanne Theatre?
Zambello talked about bringing the ultimate half-fish-out-of-water story to the stage.
Read the rest of the article here.
---
The Little Mermaid on Broadway (Leslie Bennetts, Vanity Fair, November 2007)
Staging a Broadway Splash
"Staging a musical that takes place underwater is enough to confound anyone, so the Broadway version of Disney's 1989 animated movie, The Little Mermaid, languished for years — until the globe-trotting director Francesca Zambello came up with a concept. "No water, no wires," says Thomas Schumacher, president of Disney Theatrical Productions. "She had this jewel-box idea for the show, this opalescent, almost Venetian-glass-like setting." Zambello also had an international reputation for directing major operas and theatrical productions everywhere from the Metropolitan Opera ("She got Plácido Domingo to sword-fight in Cyrano!" says Schumacher) to Disneyland, where she staged Aladdin. At 51, Zambello — an American who grew up in Paris, Vienna, and London, studied in Moscow, and speaks French, Italian, Russian, and German as well as English — has won awards all over the world. "I'm a traveler," she says.
"But it was the universal themes in The Little Mermaid that hooked her. "It's about a young girl who wants to change herself to become something else," Zambello says. "It's also a metaphor about tolerance — about two worlds that don't like each other but come to embrace each other."
"When the $15-million-plus production opens on Broadway, in November, audiences will find an updated plot line. No longer is Ariel the drippy fairy-tale heroine who has to wait for the prince to save her. "She's a rebel, and I thought it important that she not be passive, so I've tried to give it more of a girl-power twist," Zambello explains. "In the movie, the prince destroys Ursula the Sea Witch, but in this version Ariel does it herself. She gets her own voice back, and she saves her father." There are, however, some things you can always count on. "She's a Disney heroine, so she gets the big pink ball gown," Zambello admits."
For tickets and additional information, visit the official website.
---
The Little Mermaid on Broadway
The musical The Little Mermaid, directed by Francesca Zambello, opens on Broadway at the Lunt-Fontanne Theatre on December 6. For tickets and additional information, visit the official website.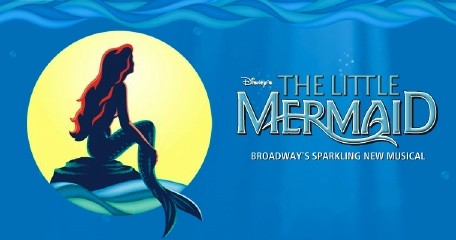 ---
A Blazing Don Giovanni at Covent Garden
From PlaybillArts.com: Writing from London in The New York Times [in June], chief music critic Anthony Tommasini observed that the Royal Opera's current run of Mozart's Don Giovanni, in a "grippingly spare and psychologically probing 2002 staging by the director Francesca Zambello," is "especially suited to big-screen close-ups thanks to an exceptionally attractive and involving cast."
---
Gilbert back on 'Prairie' (from Variety, March 15, 2007)
"Patrick Swayze and Melissa Gilbert will topline the pre-production workshop presentation of "Prairie," a new tuner based on the "Little House on the Prairie" series of books.
"Invitation-only workshop, set for April 16-17, precedes a national tour of the musical planned for spring 2008, prior to an eventual berth in Gotham. Swayze, recently seen on the West End in "Guys and Dolls," will play Pa opposite Gilbert as Ma. Actress, who was prexy of SAG for four years, grew up playing tyke Laura Ingalls Wilder on the nine-season NBC adaptation of "Little House."
"For the workshop, Francesca Zambello, helmer of Disney's Rialto-bound stage version of "The Little Mermaid," directs a cast that also includes Sara Chase as Laura, as well as Michael Arden ("The Times They Are A-Changin'"), Jenny Galloway ("Les Miserables") and Sara Ford. Beth Henley ("Crimes of the Heart") wrote the book for "Prairie," which has music by screen composer Rachel Portman (who won an Oscar in 1997 for "Emma") and lyrics by Donna DiNovelli. Story follows a pioneering American family in the late 19th century.
Design team will include Adrianne Lobel (sets), Paul Gallo (lights) and Martin Pakledinaz (costumes). Producing team, headed by Ben Sprecher ("A Moon for the Misbegotten") and wife Amy, a children's TV exec producer, also includes Louise Forlenza, Bob Boyett ("The History Boys," "Coram Boy") and Wendy Federman. Both Forlenza and Federman are producers of "Misbegotten."
---
Francesca Zambello in rehearsals for Die Walküre at Washington National Opera.
Photo by Karin Cooper
---
'Mermaid' Approaches, So 'Beauty' Will Close (from The New York Times, January 18, 2007)
"To make room for the Dec. 6 opening of The Little Mermaid, Disney Theatrical has announced the closing dates for Beauty and the Beast…Mermaid, after its out-of-town tryout at the Ellie Caulkins Opera House of the Denver Center for the Performing Arts, will begin previews at the Lunt-Fontanne on Nov. 3. Mermaid will play in Denver from July 26 to Sept. 9. Doug Wright (Grey Gardens) is writing the book for the show, which is based on the 1989 movie; the movie's music and lyrics were by Alan Menken and Howard Ashman, also the composer and lyricist of the Beauty score. Mr. Ashman died in 1991; the lyricist Glenn Slater will work with Mr. Menken on nine new songs for this production. Francesca Zambello, a director known for her opera productions, will direct; Stephen Mear, who worked on Mary Poppins, will be the choreographer; and George Tsypin, another opera veteran, will be the scenic designer."