Rebecca at the Raimund Theater, Vienna (from Variety, October 8, 2006)
"Around 30 Tony-winning best musicals have been made into Hollywood films, but Broadway has rarely returned the favor: Only three winners of the best picture Oscar successfully transferred to the musical theater stage ("Grand Hotel," "All About Eve" and "The Apartment"). We now can add "Rebecca" to that list. Michael Kunze and Sylvester Levay deliver a work every bit as compelling as their hit "Elisabeth," the most successful German-language musical of all time, while Francesca Zambello's dazzling, cinematic production offers storytelling at its best, clearly defining the whirlpool of emotions experienced by the three tortured principal characters."
---
Carmen at Royal Opera House (from Variety, December 13, 2006)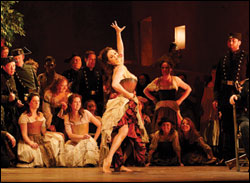 "As Covent Garden's hotly anticipated new production thrillingly proves, this most dramatic of operas only achieves true liftoff when all three partners in the central fervid love triangle are on inflammatory form. But it's not just three powerhouse lead performances that fire up the present proceedings. Director Francesca Zambello scores a major hit by making spectacle respectable.
"Where Hitchcock, according to rumor, treated actors like cattle, Zambello (who's about to join the Disney stable with stage tuner "The Little Mermaid") treats cattle like actors. A live donkey ambles across the sunny Seville square of the first act, a clutch of chickens actually laid eggs during the first-night performance, and toreador Escamillo (Ildebrando D'Arcangelo) makes a suitably high-status entrance on the back of a huge black horse.
"The second-act set may look pretty large for a secret smugglers' tavern, but the place is packed with activity, thanks in part to 34 extra singers, dancers and actors in addition to the already large Opera House chorus. Arthur Pita's flamenco-style choreography has the supreme virtue of looking natural. The vivid, foot-stamping dancing continues the gypsies' dramatic line rather than merely operating as token display. If all that suggests a Seville-theme-park approach, think again. Although Zambello's almost widescreen grandeur risks swamping the story, as soon as the heavily populated life of each location has been established, the focus narrows. She and conductor Antonio Pappano ensure serious storytelling via full-blooded, intensely characterized singing.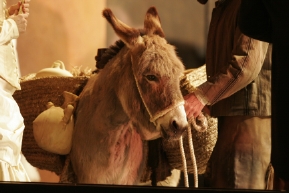 "Heat surges throughout the production…[Pappano] and Zambello effectively create a new edition of the score midway between the original version's spoken dialogue and the later addition of recitative. Most of the latter has been scrapped to sharpen the action, which is also the reasoning for a cut at the beginning of the final act.
"The fact that this production is being filmed by BBC TV will encourage the edition's further uptake. The Royal Opera's last "Carmen" opened in 1991 and was last revived here in 1994. Zambello's production, which has already virtually sold out a long run, not only fills a crucial repertoire gap, it deservedly looks set to last for years."
---
Show Boat at Royal Albert Hall (from Variety, June 21, 2006)
"This gigantic arena revival is in the experienced hands of opera director Francesca Zambello. If you've staged all 15 hours of Wagner's Ring Cycle, what's three hours in the company of Jerome Kern and Oscar Hammerstein II? Hell, these guys even wrote jokes.
"Zambello and choreographer Arthur Pita keep the stage alive, employing swathes of people — whether the Mississippi "colored folks" of the opening lyrics, working and lifting cotton bales, or the white folks playing — to keep the slow-to-no-tension first act afloat. The vast stage area seems to insist upon a wide-angle view, but Zambello and Pita keep the aud focused on action in long shot.
"Zambello's pruned-down variant on the 1994 Hal Prince version cannot stop the plots of the first half from overspilling, but she contracts the second-act jump cuts and wraps it all up smartly enough to suggest her arena version is likely sail on into further waters."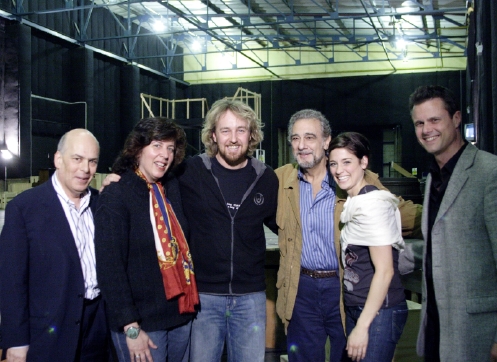 Placido Domingo visits Francesca Zambello and the cast of Show Boat at Royal Albert Hall.
Photo by Catherine Ashmore
---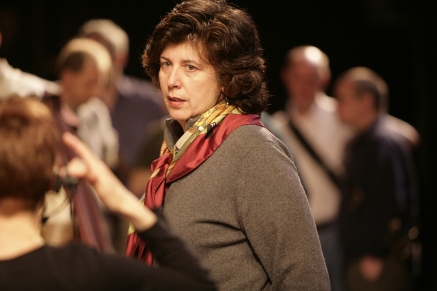 Francesca Zambello in rehearsals for Cyrano de Bergerac at the Royal Opera House.
Photo by Rob Moore
---
Zambello Directs Ring Cycle at Washington National Opera — What the Press is Saying
National Opera Molds Wagner's 'Ring' to Fit American Myths
"On Saturday night the Washington National Opera introduced its new production of "Das Rheingold," the first installment of its first complete "Ring" cycle (a co-production with the San Francisco Opera), which will unfold over the next three seasons at the Kennedy Center. For months, the director Francesca Zambello's staging had been touted as a provocatively American "Ring" steeped in American mythology and iconography.
"There are many fresh and impressive elements to the company's colorful, abstract and well cast "Rheingold." But its success is only partly attributable to overtly American imagery. It's true, for example, that in the opening scene Ms. Zambello, working with the set designer Michael Yeargan and the costume designer Anita Yavich, portrays Wagner's Alberich, the dwarf who dwells among the lower race of Nibelungs, as a hulking forty-niner, with thick boots and suspenders, panning for gold; the Rhine Maidens are a trio of sassy gals in fleecy dresses who cavort on a mining sluice, a wonderful wood contraption with chutes and ladders.
"But the visual imagery that really gives this scene its impact is the depiction of the pristine river. Rushing water is suggested through swirling video projections by Jan Hartley. When the magic gold glows from the river bed, the Rhine Maidens do a celebratory dance with a billowing silken sheet atop this abstract river's sleek, clear plastic surface. Shafts of golden light (courtesy of the lighting designer Mark McCullough) fill the stage…"
"The giants Fasolt and Fafner, having just finished building Wotan's castle Valhalla, first appear sitting on a steel beam as it is lowered from an unseen crane. They are blue-collar laborers in matching overalls with elongated legs and huge clodhopper feet. If they look a little like Gumby giants, the cartoonish humor seems intentional. Ms. Zambello is refreshingly attentive to the whimsical side of Wagner's mythological tale. The audience, sensing it was O.K. to laugh, did…
"The lingering image of this production comes in the deep, dank and sulfurous mine where Alberich brutally drives his slaves to hew rock and forge gold. The workers are played by a roster of some 50 mostly minority children, large and small, with tattered clothing and sooty faces. Evoking the history of slavery in America is the idea, but the image of child labor, which remains an international outrage, is what came through for me."
— Anthony Tommasini, The New York Times
"Washington National Opera launches its new production of Wagner's Ring cycle tonight with the first performance of Das Rheingold, the prelude to the four-part epic. The WNO's staging, a co-production with San Francisco Opera, is directed by Francesca Zambello, with sets by Michael Yeargan and costumes by Anita Yavich.
"In December, Zambello said that she and WNO general director Plácido Domingo had conceived her production as an "American Ring," with imagery drawn from the "American history, mythology, iconography, and landscape." In costumes sketches, the goddess Erda is depicted as a Native American woman; Wotan wears a stylish, sharp-creased suit and an eye patch."
— Ben Mattison, Playbill Arts
---
Royal Opera 2006-7 Season Preview: Francesca Zambello to Direct The Queen of Spades
"The Royal Opera's 2006-7 season looks like one of its strongest since reopening…
One of the most rewarding revivals of the season will surely be Tchaikovsky's The Queen of Spades from November 11. Francesa Zambello's production is full of the psychological insights that this work requires, and the strong cast includes Vladimir Galouzine (Hermann), Gerald Finley (Yeletsky), Katarina Dalayman (Liza) and Larissa Diadkova (Countess).
"Francesco Zambello's production of Don Giovanni returns from June 11. Erwin Schrott follows up his recent Figaro by playing the Don; Anna Netrebko (the only good thing about the last revival) is Donna Anna, and veteran Robert Lloyd returns as the Commendatore. Ivor Bolton returns to conduct, after a long absence from the House."
For more information, see the Royal Opera House website.
---
Francesca Zambello Appointed Artistic Adviser for San Francisco Opera
David Gockley, General Director of San Francisco Opera, announced in a press release dated January 11, 2006, that "renowned American stage director Francesca Zambello will join his creative team as artistic adviser. Ms. Zambello made her North American stage debut in collaboration with Mr. Gockley for Houston Grand Opera's 1984 production of Fidelio. Ms. Zambello has also had a lengthy association with San Francisco Opera, having directed eight productions [there] in over two decades. Her production of Tristan und Isolde will be featured during the 2006-07 Season. In her new role with the Company, Ms. Zambello will assist in identifying new talent, help to ensure the highest quality of stage production, and work to broaden audiences for opera."
For more information, see the San Francisco Opera website.