The Lion, The Unicorn, and Me Debuts at Kennedy Center and Charms Audience (Jennifer Perry, BroadwayWorld.com)
"Suitable for the entire family, particularly during this holiday season, The Lion, The Unicorn, and Me takes us on a rather unique trip to Bethlehem — one that's filled with joyous music, charming and undeniably talented children, and showcases the talent of young opera singers…Certainly, particularly at this time of the year, there's no shortage of concerts and plays that focus on Jesus' birth. Yet, the original nature of this story – initially slightly different than what we've all heard before – and the fact that it's presented in a way that can engage modern, cosmopolitan kids and adults alike is likely to make it a hugely popular offering by opera companies in the 'family opera' slot. This is deservedly so. The music and the libretto work seamlessly together to create something special. Neither panders to the youngest child in the audience, yet offer something that's sophisticated while at the same time accessible…Yet, it's Tesori's selections for the angel that are the perfect blend of tenderness and sophistication while not sounding too saccharine. Wager's sweet, angelic boy soprano voice proves well-suited to the whole lot of them…Zambello should absolutely be commended for this casting choice."Click here for the entire article.
---
Opera Review: The Lion, The Unicorn, and Me (Elliott Lanes, MDTheatreGuide.com)
"This piece is important for a number of reasons. First off, anytime you can make opera accessible to young people it is a good thing. Secondly, by fusing opera and musical theatre together, as Tesori has done with her score and orchestration, you have a chance of the piece crossing over to a wider audience. Lastly, this is the first opera written by a female to be performed by the WNO in its 58 year history, and I could not think of a better choice…the performers are animated and have distinct characterizations. Credit must be given to director and WNO's artistic director Francesca Zambello for making this happen…Francesca Zambello's staging moves the action and keeps it interesting for the younger audience members while not blowing over what the story wants to say. The Lion, The Unicorn and Me gives all ages this holiday season a chance to go the opera and have a great time doing so. Tesori's music and McClatchy's libretto is a whole lot of fun and the production and performances help to introduce the younger generation to one of our oldest musical art forms."Click here for the entire article.
---
Washingtonian declares Zambello one of DC's most powerful women of 2013
In its November 2013 issue, Washingtonian magazine lists the 117 most powerful women in the DC area in a number of disciplines. Francesca Zambello made the list in the Arts and Letters category, alongside eight of her colleagues. Click here for the entire list, and to read the feature.
---
Zambello named among top ten most powerful women in US music
The ArtsJournal blog (www.artsjournal.com) has tagged Francesca Zambello as the number 9 most powerful woman in US music. The honor places Zambello among such luminaries as Deborah Borda, Renee Fleming, Marin Alsop, Jane Moss, Sarah Billinghurst, and Joyce DiDonato. Click here to read Norman Lebrecht's piece.
---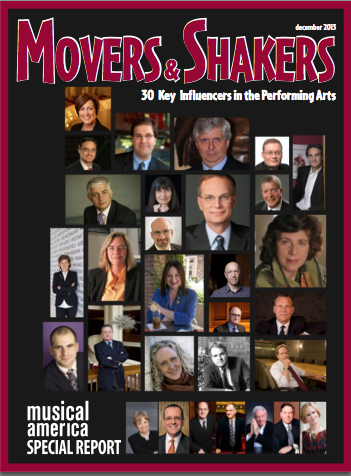 Francesca Zambello Noted as one of Musical America's 2013 'Movers & Shakers'
Francesca Zambello graces the cover of the December 2013 'Movers & Shakers' issue of Musical America, as one of "30 Key Influences in the Performing Arts." This Special Report will be available in early December, as a free, downloadable PDF.
Visit www.musicalamerica.com for more information.
NOW AVAILABLE: Download Movers & Shakers: 30 Key Influencers in the Performing Artshere.
Or, proceed directly to Wynne Delacoma's feature on Mover and Shaker Francesca Zambellohere.
---
WNO's The Lion, The Unicorn, and Me to Run 12/14-22 at the Kennedy Center (BroadwayWorld.com)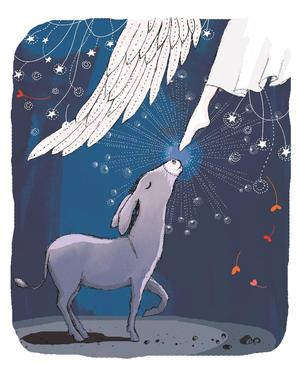 "Washington National Opera (WNO) continues its 2013-2014 season with the world premiere of a new holiday family opera: The Lion, The Unicorn, and Me, December 14-22 in the Kennedy Center Terrace Theater. Based on Jeanette Winterson's award-winning children's book which tells the story of the Nativity from a donkey's point of view, The Lion, The Unicorn, and Me features new music composed by Tony-nominated composer Jeanine Tesori (Thoroughly Modern Millie and Shrek The Musical) and a libretto by the poet J.D. McClatchy. This WNO commission is directed by WNO Artistic Director Francesca Zambello and conducted by Kimberly Grigsby (Broadway's Spring Awakening and You're a Good Man, Charlie Brown) in her WNO debut.
"Zambello has a long history of bringing works for children and families to the stage, including the world premiere of Rachel Portman and Nicholas Wright's The Little Prince at Houston Grand Opera (later televised as part of PBS's Great Performances), as well as the recent Broadway musical The Little Mermaid. "I think it's important that as our national opera company we present a wide array of new American works, from our new 20-minute operas to bold new works like Moby-Dick to works like The Lion, The Unicorn, and Me that can bring a new generation of opera lovers into the Kennedy Center," said WNO Artistic Director Francesca Zambello. "We will continue to present works for new audiences and families so that they can begin to experience opera in an accessible way."
"I'm proud that we have assembled our own new Children's Chorus for this production, and I have enjoyed working with Henry on his role as the Angel since our workshop this summer," said Zambello. "I love seeing children on our stages and know that they help bring children into our audience."
Click here to read the entire article
---
Stanke, Seibert & More Set to Lead Premiere of New Wildhorn Musical ARTUS – Excalibur in Switzerland (BroadwayWorld.com)
"The Theater St. Gallen announces the performers in the title roles of the world premiere of the musical ARTUS – Excalibur on 15 March 2014…The new musical by Frank Wildhorn (Jekyll & Hyde; Dracula, the Musical; The Count of Monte Christo) transports you into the world of Arthurian legend. The director of this world premiere is Francesca Zambello, whose speciality is large musicals, as she last demonstrated in St. Gallen with her successful production of Rebecca."
Click here to read the entire article
---
Zambello's Glimmerglass: the Legacy Lives On (Joseph E. Morgan, The Boton Musical Intelligencer, classical-scene.com)
"It has been three years since David Shengold last made the drive out to Glimmerglass to report to Intelligencer readers. It was Michael MacLeod's last year as artistic and general director there and Shengold described his residency as a "largely caretaking role vis-à-vis the company's legacy." At the time there was a great hope for a turn-around. For the 2011 season, Francesca Zambello took the reins and since, the company has changed in many ways but most importantly, it has survived. In an era of bankrupt orchestras (and cities), the "staycation" movement, and a general cultural austerity, Zambello has managed to maintain a festival of more than 40 summer performances in a town of under 2,000 people and over three hours distant from a major metropolitan area.
"In her time there, she has created a community around the opera festival that is rapidly becoming an institution…"
Click here to read the entire article
---
Under Zambello, Glimmerglass Festival creating a new musical community (Anne Midgette, The Washington Post)
"Francesca Zambello heads two opera companies. One is the Washington National Opera; the other is the Glimmerglass Festival, the summer festival in Cooperstown, N.Y. (which this year runs through Aug. 24). Technically speaking, Glimmerglass is not solely an opera company; under Zambello, its purview has opened to embrace all forms of musical theater, including song recitals and an annual Broadway musical. But Zambello is putting the "company" into it with a vengeance.
"There's a trend among classical music institutions to find new ways to connect with their communities — or to create new ones. This is very much what's going on at Glimmerglass. Zambello is creating a group of artists with allegiances to the company…"
Click here to read the entire article
---
The Flying Dutchman at Glimmerglass Festival 2013 (Susan Galbraith, DCTheatreScene.com)
"A season programmed under an umbrella theme can feel a strain, but Artistic and General Director Francesca Zambello has pulled off a clean sweep of wins at Glimmerglass Festival this year, all under a banner featuring Romanticism…Zambello herself directs the great romantic opera, The Flying Dutchman by Richard Wagner. It's a "must see" opera. It's got those lush stirring musical passages borrowed by many and heard in other popular works. It's a story of pirates, ghost ships and the walking dead, and, at its center, of redemptive love that reaches beyond the grave.
"The director has thrown out the need for great heavy sets and watery realism often associated with this opera. This production mostly takes place on one ship reduced to a single gunwale in silhouette and rattlings that reach up the full height of the back cyc. ("Why two ships if one will do?" Zambello quipped at an after show "talkback" to a patron who wanted to know why she'd downsized the opera to a single vessel.)
"What Zambello hasn't compromised on is the role of the music. John Keenan conducts the unusually large orchestra for Glimmerglass (forty-nine pieces in all.) The musicians muster their forces to produce a pretty sensational sound and carry the audience with them through the fast string work and dark percussion into experiencing the swells and roiling of a tempestuous sea."
Click here to read the entire article
---
Passions drenches Glimmerglass audience in sorrow (Linda Loomis, Syracuse Post-Standard)
"Linking Giovanni Battista Pergolesi's 1736 setting of a 13th Century hymn, "Stabat Mater," with David Lang's 2008 Pulitzer-Prize winning The Little Match Girl Passion, Artistic Director Francesca Zambello addresses the timeless and universal human emotions associated with physical and emotional suffering…With Zambello's meticulous direction, Lang's setting of the passion forces viewers to examine the morality of their own actions and consider their relationships with those who are rejected, marginalized or excluded."
---
David Lang's Little Match Girl Passion at Glimmerglass Opera (Peter Matthews, FeastOfMusic.com)
"I've seen David Lang's Pulitzer Prize-winning the little match girl passion on at least three separate occasions now, and while the music has never ceased to haunt me, I've always thought the heartbreaking Hans Christian Andersen tale about a girl who freezes while trying to sell matches on the street would be well served by staging…The staging, by Glimmerglass director Francesca Zambello, was beautifully simple, with gentle snow falling on the dimly lit stage."
---
Glimmerglass Festival Presents David Lang's The Little Match Girl Passion – July 20, 2013 (OperaWarhorses.com)
"The staging of the passion, directed by Francesca Zambello, was effective and always interesting."
---
McKinny, Moore, Morris Soar in Flying Dutchman – Glimmerglass Festival, July 18, 2013 (OperaWarhorses.com)
"[Zambello's] conceptualization of the mythic story centered on the psychological obsession of a teenage girl for a male figure. The effect, as with most Zambello journeys into familiar operas, was revelatory.
"Although Wagner's composition requires Senta to be a focus of every production of Flying Dutchman, Zambello's emphasis on the work's "feminine side," I believe, transforms the piece from a fairy tale that ends badly to a deeply psychological mythic drama. What does happen to the women with whom the Dutchman had been engaged in his disembarkation every seven years? What has Senta done that so upsets the Dutchman?
"With brilliant acoustics, international rank artists in every major role and the heightened  theatrical experience that one expects from a Zambello project, Dutchman proved as exciting an evening as last season's Aida.
"Zambello's direction permitted [McKinny] to develop, instead of a remote ghost figure, a more human character, who connects empathetically with Senta.
"Empathy with the women who have been destroyed by his curse is as much a concern of Zambello's Dutchman as is his personal damnation and that of the men of his crew.
"That concern is visualized in one of Zambello's most arresting images: women who have pledged fidelity to the Dutchmen, but were found wanting, are themselves entangled forever in the mast riggings of the Dutchman's ship. They cluster around him as he walks from ghost ship to shore.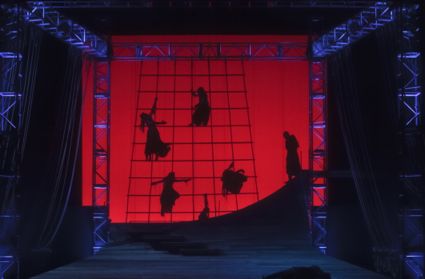 "When Zambello takes on a Wagnerian opera, one begins to see deeper meaning to the relationships between the characters that Wagner created.
"I recommend this production without reservation, both for Zambello's insightful presentation of a familiar story, and for the brilliant trio of Ryan McKinny, Melody Moore and Jay Hunter Morris, as well as a strong secondary cast."
Click here to read the entire article
---
Fliegende Holländer at Glimmerglass (David Browning, HuffPost Arts & Culture)
"Your intrepid reporter has once again happily traipsed all the way across the state to see beautifully done opera and to tell you about it. This time the venue was the Glimmerglass Festival, site of several wonderful shows seen and reported two years ago. (I had to miss the entire season last year. Bitter tears were the result.)
"The first show I saw was Der Fliegende Holländer, Mr. Wagner's great opus in honor of seamen. Ghostly ship's captain comes ashore once every seven years searching for true love, and one gathers that it never ends well. Glimmerglass always has innovative and creative new productions of both standard and unusual works, and Francesca Zambello, artistic director of Glimmerglass and stage director of this show, certainly did not let us down! This was a visually stunning show, with spellbinding effects in scenery, stage direction, choreography, and lighting. (My companion opined that the enormously effective lighting was like another character, but in a successful way, not in a Lepage-machine way.) Sets by James Noone and lighting by Mark McCullough deserve high praise, as do Ms. Zambello's lusty direction and choreography by Eric Sean Fogel."
Click here to read the entire article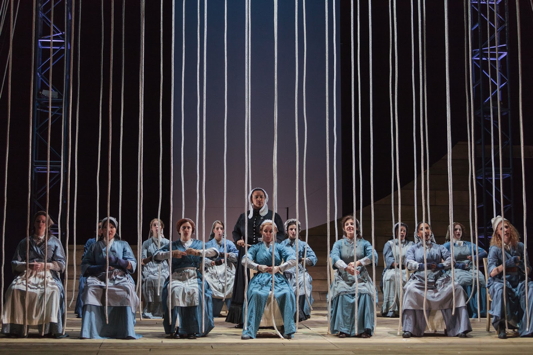 ---
Bold Strokes in the Country — Glimmerglass Offers an Ambitious Spread of Works (Steve Smith, The New York Times)
"COOPERSTOWN, N.Y. — Ambition has never been in short supply at the Alice Busch Opera Theater, the cozy 900-seat auditorium that long housed the Glimmerglass Opera, and now is the principal setting for its successor, the Glimmerglass Festival. But even measured by the high standard this annual affair has sustained, this year's festival — which runs through Aug. 24 here — rises to new levels of innovation, curiosity and, yes, chutzpah.
"Make no mistake, that's meant as praise. It takes a certain kind of fearlessness to conceive and execute a summer series in which the most conventional offering is Wagner's "Flying Dutchman." One of two shows directed by Francesca Zambello, the festival's renowned and provocative general and artistic director, the production is the first Glimmerglass staging of one of Wagner's canonical works. ("Das Liebesverbot," Wagner's second opera, was mounted here in 2008, during Michael MacLeod's brief tenure at the helm.)
"Compared to last season's notorious topical updating of Verdi's "Aida" — and to the other works in this year's festival, which include a popular Broadway musical, a fascinating pair of staged vocal works not intended for the theater, and a rare Verdi flop — "The Flying Dutchman" was presented in an essentially traditional manner. But Ms. Zambello's resourceful, riveting conception, seen on Thursday, still illuminates fresh depths and currents in this Wagner seafaring tale…"
Click here to read the entire article
---