NAACP Theatre Awards names Zambello Best Director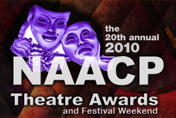 Internationally recognized opera and theater director Francesca Zambello was named Best Director of a Musical by the 2010 NAACP Theatre Awards for The First Wives Club. With music by the legendary songwriting team of Brian Holland, Lamont Dozier and Eddie Holland and book by Tony Award winner Rupert Holmes, The First Wives Club premiered at the The Old Globe in San Diego in July of 2009.
---
Changing of the Guard at the Glimmerglass
WNYC's Kerry Nolan talks to Francesca Zambello for WQXR, the New York area classical radio station. Accompanying the short interview is a slideshow featuring images of Glimmerglass, and a look at a small portion of Zambello's recent body of work.
Listen to the interview and see the slideshow here: www.wqxr.org/programs/arts-file/2010/mar/19/.
---
Carmen live on screen throughout Britain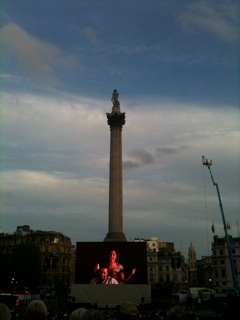 On June 8th, the BP Summer Screening of Carmen took place on giant screens at fourteen locations throughout Britain, from Trafalgar Square (pictured) to Aberdeen, Plymouth and Norwich. The performance was part of a live country-wide sing-along, led by Gareth Malone from BBC's "The Choir." People at all 14 locations across the UK were able to sing "The Toreador Song" from Carmen, and immerse themselves fully in the performance.
---
Fatal Attraction: Carmen in China (Nancy Pellegrini, Time Out Beijing/Time Out Shanghai)
"Under the guidance of directorial demigod Francesca Zambello, the National Centre for the Performing Arts is not merely co-presenting, but co-producing its first international opera…this is Carmen the way Bizet intended. Never settle again."
Read the entire article here.
---
Rehearsing Carmen in China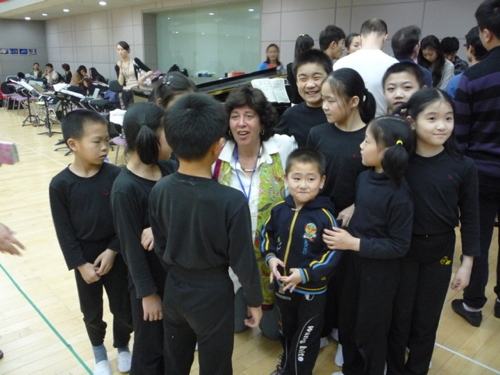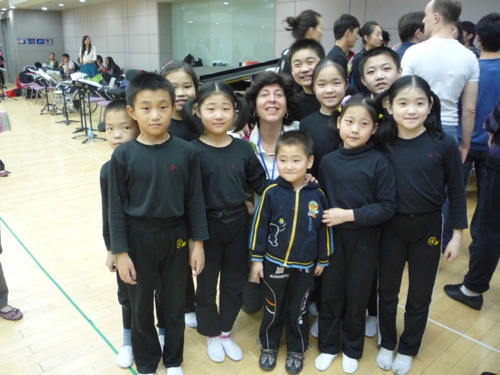 ---
Glimmerglass Opera Hires a New Artistic Director (Daniel J. Wakin, The New York Times)
"Francesca Zambello, a busy opera and musical theater director whose work has ranged from Disney's Little Mermaid to Wagner's Ring cycle, has been hired as the general and artistic director of the Glimmerglass Opera in Cooperstown, N.Y., the company said on Thursday. Ms. Zambello will succeed Michael MacLeod, who said in February he would leave this year after five seasons. Ms. Zambello, who is also artistic adviser to the San Francisco Opera, has directed productions at the Metropolitan Opera, the Royal Opera House in London, the Paris Opera and other major companies. Glimmerglass presents four productions a summer."
---
Review: 'Little House' a slice of nostalgia that won't disappoint (Carrie T. Gruman-Trinkner, The [Appleton, Wisconsin] Post-Crescent)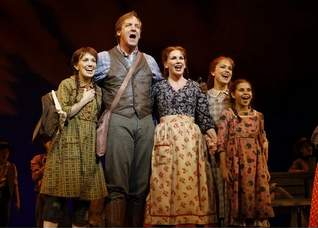 "…Audience members may go for the nostalgia. Or they may attend because the beloved Half-Pint (Melissa Gilbert) of the series is touring in the show in the role of Ma. However, the star turn aside, this show is well written, well produced and well performed. While the music is unfamiliar, there are several songs that are simply lovely, too."
"…Teach the Wind alone would be worth the price of admission. This moment wrenches the heart. Bravo."
"The production as a whole is a success. It is difficult to bring to the stage such well-known and beloved characters, but this cast will disappoint no one. The ensemble is tight, the portrayals true."
"Do not stay away because you are afraid that the show will spoil the nostalgia of youth. Rather attend and remember, and see a new version of the beloved Ingalls. This version will not disappoint."
---
Zambello to Head Glimmerglass Opera (Kate Taylor, The Wall Street Journal)
"Glimmerglass Opera, the 35-year-old summer opera festival in Cooperstown, N.Y., has named Francesca Zambello as its general and artistic manager, replacing Michael MacLeod. Ms. Zambello, who has worked at many of the world's major opera houses and also directed Disney's The Little Mermaid on Broadway, will likely give the small company, which presents four operas a season, a higher profile."
""I have been after her for, oh, most of the decade," Sherwin Goldman, president of Glimmerglass's board, said in a phone interview. He said that Ms. Zambello will assume her post in September and will announce soon after a "major overhaul" of the company. Asked what that might entail, Mr. Goldman said, "I think some exciting breakthroughs of new ways to consider how to produce a festival." He added: "Everything's on the table.""
"Ms. Zambello, who has described herself in interviews as a populist and an evangelist for opera, has reportedly been on the short-list in the past for top jobs at the Royal Opera House and the English National Opera. She was also said to have been considered to run New York City Opera when its director, Paul Kellogg retired in 2007. (City Opera ultimately chose Gerard Mortier, a flamboyant European impresario, who later parted ways with the company before fully assuming the post.)"
"Ms. Zambello's work is well known beyond opera circles. In addition to The Little Mermaid, she directed a live adaptation of Aladdin for Disney's California Adventure theme park in Anaheim, Calif. She helmed a musical production of Little House on the Prairie that is currently touring the United States. A musical version of the Daphne du Maurier novel Rebecca that she directed played in Vienna for three years. A new production of Rebecca, directed by Michael Blakemore and co-directed by Ms. Zambello, will open in London next spring, subject to theater availability, according to Ben Sprecher, one of the producers, and on Broadway in 2012."
---
Melissa Gilbert on The Today Show
Melissa Gilbert was on The Today Show on February 5, 2010, talking with Kathie Lee Gifford and Hoda Kotb about Little House on the Prairie — The Musical. Click on the image below to watch the segment: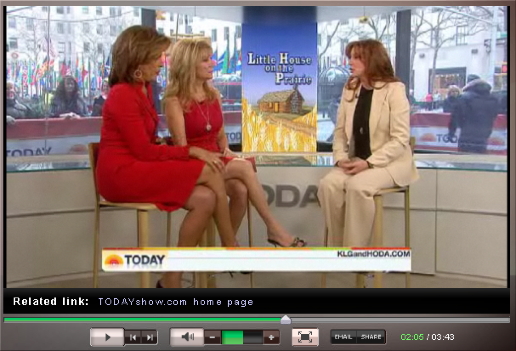 ---
Scholastic Scope magazine features Little House