Washington National Opera names Francesca Zambello as Artistic Director
SEPTEMBER 13: Washington National Opera (WNO) today named Francesca Zambello as its Artistic Director, effective January 1, 2013. She has served as the company's Artistic Advisor since June 2011.
As Artistic Director, Ms. Zambello will have responsibility for the company's artistic vision and direction, including repertoire and casting. She will work in close collaboration with Kennedy Center President Michael M. Kaiser, WNO Executive Director Michael L. Mael, and WNO Music Director Philippe Auguin to further the company's long history of artistic excellence. She will also oversee the artistic growth of the company's Domingo-Cafritz Young Artist Program and will guide the future of the American Opera Initiative, WNO's new American opera commissioning program. She will continue to direct one production each season.
"Cesca is both a brilliant director and a highly effective administrator," said WNO Board Chairman Jacqueline B. Mars. "Her stature in the international opera community enhances the company and I have great confidence that she will take WNO in a positive direction."
"It will be an enormous pleasure and honor to expand my role with WNO as its Artistic Director, maintaining the high standards set by my predecessors and leading WNO into the future," said Ms. Zambello. "I will respect what appeals to our long-time patrons and supporters while at the same time work hard to attract new audiences to opera. I look forward to raising the profile of the Domingo-Cafritz Young Artist Program, continuing the great work already underway with the American Opera Initiative, and highlighting special and unique repertoire and artists that only the intimacy of the Kennedy Center affords us. This is a challenge I embrace unequivocally, and I look forward to sharing more of my plans in the coming months."
"Francesca Zambello will bring much passion and vision to WNO in her expanded role as Artistic Director," stated Kennedy Center President Michael M. Kaiser. "Her deep commitment to WNO's mission, its legacy of rich artistic programming, and its outreach and education initiatives will help bring WNO to a new level of artistic achievement."
Francesca Zambello has established herself as one of the boldest names in opera. She has enjoyed a storied career as both an opera director and an arts administrator and has an extensive history of success with WNO. She has directed numerous productions for WNO and will direct her new production of Show Boat in May 2013. As previously announced, she will bring her much-admired Ring cycle back to Washington in the spring of 2016. She also serves as the Artistic and General Director of the Glimmerglass Festival in upstate New York, where she recently directed an acclaimed production of Aida.
To read the press release on Washington National Opera's blog, click here.
---
Heart of a Soldier on WFMT radio
San Francisco Opera's production of Christopher Theofanidis' opera, Heart of a Soldier, directed by Francesca Zambello, will air on Chicago's WFMT (98.7 FM) on September 8th as part of their 'From the San Francisco Opera' series. To view the schedule and listen live, click here.
---
The elephants come to Glimmerglass…for Aida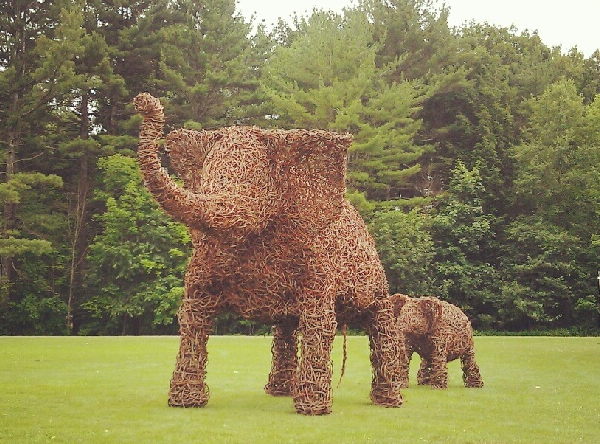 ---
A breath of fresh air for opera (The Australian, Murray Black)
"Freed from the restrictive confines of the cramped Opera Theatre stage, Zambello, costume designer Tess Schofield and choreographer Stephen Baynes created a riot of colour and movement [in Opera Australia's production of La Traviata]…Zambello's thoughtfulness extended further. For instance, the matadors knelt down to become the supports for a large red cloth doubling as a gambling table. Most impressive of all was the way she integrated offstage activity into the action. Watching characters arrive and depart up and down the gangplanks brought a broader sense of perspective…Whether you're going for the spectacle or the music, whether you're an opera buff or novice, you won't be disappointed."
Click here to read the entire article
---
Bellissimo! Handa Opera's La Traviata on Sydney's waterfront a big success (The Telegraph, Jo Litson)
"La Traviata is opera as a major event. The huge stage over the water, the stunning location at Fleet Steps, and the onsite bars and dining areas with priceless views are all part of a unique Sydney experience. As for the dazzling production itself, directed by Francesca Zambello, it more than holds its own in the magical setting….All in all, it's a massive undertaking — which OA has pulled off magnificently."
Click here to read the entire article
---
Walking — and singing — on water (The Economist 'Prospero' blog)
"Opera Australia, the country's main opera company, staged a triumphant premiere performance of Giuseppe Verdi's La Traviata on a water-borne stage before an audience of 3,000 people on shore. Nothing like this had ever been done before. [Artistic Director Lyndon] Terracini was not about to offer them something conventional: "If a traditional repertory company like Opera Australia wants to draw a younger audience, you have to change." With this in mind Francesca Zambello, the director, and Tess Schofield, the costume designer, relocated Verdi's operatic story of Violetta, the doomed courtesan, from 19th-century Paris to the 1950s…With this spare but arresting setting, Ms Zambello says she wanted to connect the story to the visual world of contemporary Sydney, and its energetic outdoor life. The sprawling stage turned into a dazzling display of matadors, vibrant '50s fashion and chorus members arriving for the performance's second half by water taxi, a popular Sydney transport mode..Australians are not usually given to offering standing ovations. But the audience of 3,000 rose spontaneously to applaud the inaugural event's seemingly flawless management…As an exercise in pushing boundaries, Opera Australia's gamble paid off."
Click here to read the entire article
---
Review: La Traviata (Inner West Courier, Irina Dunn)
"If ever I have experienced a perfect night out this was it… the evening was sparkling, clear and crisp as 3,000 patrons and matrons gathered on the eastern foreshore of Farm Cove for a performance of Verdi's acclaimed masterpiece La Traviata. Direction was by Francesca Zambello, who has worked at the Metropolitan Opera, Teatro alla Scala, the Bolshoi, Covent Garden and the Paris Opera, among other world-famous venues. Setting the action in the Paris of the 1950s, Zambello evokes the period through a rich array of colourful costumes and displays a stroke of genius in how the card table is set up, not to mention the many other delightful and breathtaking aspects of this outstanding production."
Click here to read the entire article
---
The show behind Lyric's Show Boat (Chicago Tribune, Mark Caro)
"You're hearing it probably the way that Jerome Kern made it sound originally," Zambello said. "There would have been this many people onstage. There would have been this many people in the orchestra pit. Since World War II, we've been in the whittling down of the music theater in terms of the size of the cast and the size of the orchestra."